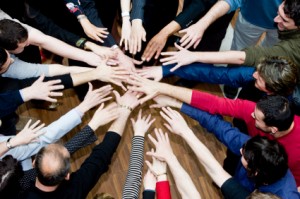 Our congregation is known as a "Family sized" church.  This has nothing to do with the configuration of a family, but means that we know one another and care for one another as families might do.  Another way of putting it is that "everyone knows your name"  and there are plenty of opportunities to meet other disciples of Christ.
Our Congregation provides "the ties that bind" us together as a church in fellowship and care from the time that we join to the time that we leave this congregation.  Learn more about the many ways you are included in our Church Family.
Join Us in Fellowship
There are many opportunities for members to become better acquainted with one another and to have fun together in the faith.
Wednesday Night Supper is held each Wednesday at 6:00 p.m. in the Fellowship Hall.  The cost is $5.00 for adults  and $3.oo for children or $12 for a family of 4 or more.  Various menus are served by volunteers– ranging from hamburgers to King Ranch Chicken to Red Beans & Rice.   There  are age appropriate choices for children.
Bridge players meet every Monday at 10:00 a.m. in the Gathering Place.  They play, stopping for a bag lunch around noon and continue into the early afternoon.  If Bridge is not your game, there is a jigsaw puzzle always in progress.  Click here for more information.
Yoga lessons are available each Monday and Thursday evenings at 6:00 p.m. in the Education Building.  Bring a mat and become relaxed and flexible.  Click here for more information.
Flexercise – bring your walking shoes and join us every Tuesday and Thursday mornings at 10:00 a.m. in the Gathering Place for about an hour for light exercising and fellowship.
Watch the Church Calendar for special parties – such as church picnics, chili cook-offs, and more.
Caring for One Another
We support and encourage those in critical need and/or life changes from birth to death.
The Prayer Chain is used to address prayer concerns for members of the congregation and for people known to the congregation.  People are notified of the need for prayers either by telephone or by e-mail.  If you wish to send a prayer concern, click here or call the church office at 713-464-7659.
If a church member needs transportation, a friendly visit, or food while recovering from an illness, contact the Care Group by clicking here.
New Member
If you would like to join us at Spring Branch Presbyterian Church, contact the Pastor, the church office or one of the ushers at worship.  As a new member you will be paired with a current member who will help you get acquainted with the others in the life of the church.