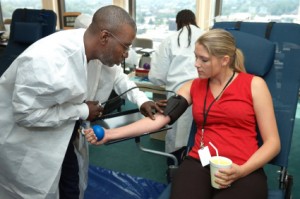 The church supports a wide variety of benevolences, local, national and global.  The church also promotes and/or provides the opportunity to actively participate in service. We also support our missions through prayer and giving.
Here are just a few recent special highlights. There are many other amazing opportunities to go out and do what is asked of us in the Great Commission.
The dress a girl around the world project

A special day in August brought an opportunity to take part in the dress a girl around the world project. We had a great time getting together to make dresses out of pillowcases that were delivered to little girls in Haiti.

Going out to work in the community with our local food pantries.
Fall and Spring Community Garage Sale fund raising for our benevolences.
Ongoing examples of services and benevolences supported by the congregation include:
Weekly
Mentors visit with their child at a local elementary school.
Recycling paper via the bin at the back of the parking lot.
Monthly
Church members participate in Meals-on-Wheels, delivering hot meals on Saturday to those who, otherwise, might not be getting food on the weekends.
Mission of the Month – Each month the church focuses on the Mission of the Month.  For the Mission selected, a special bulletin board features the mission, we frequently have a guest speaker to keep us connected and informed about the mission, a drive to collect specific items needed by the group, and funds from our benevolence budget are given.  When possible, we have an activity or volunteer opportunity to bring awareness to the benevolence
Quarterly
The church sponsors a blood drive.  Each quarter about 25 units of blood are donated – potentially, helping 75 people regain their health.  (If you are interested in participating in the blood drive, click here.  Coming blood drives are Sunday, May 06/12 and August 05/12.
Annually
Some of the annual mission drives include: Cleaning supplies for the Memorial Area Ministries, soup or dollars for the Souper Bowl of Caring, uniforms for school children, Angel Tree both at Christmas and for summer camp, Seafarer's Christmas Boxes, CROP Walk, participation in the Presbyterian Children's Home and Services annual luncheon.
Current Benevolences*
Austin College/Pan American Student
Casa de Esperanza
Cho Yeh Camp & Conference Center
Fairhaven Food Pantry
MAM
Mission Yahweh
Pan American School
PCUSA
PCUSA Seminaries Support
POP
Presbyterian Children's Homes
Presbytery of New Covenant
Scouts Outreach
Seafarer's Center
Spring Branch Family Development Center
Spring Branch Presbyterian Academy
Westside Homeless Project
Women's Home
*          As of July 2011