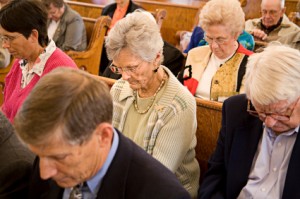 Sunday Morning Worship  10:50 a.m.
Our Sunday service is traditional with a creative spark interwoven with familiar liturgy – expect the unexpected.  The focus is on connecting with God, giving praise through the music and teaching from God's Word.  Since we have one service, we integrate many worship forms into the services.  We use a variety of music – from the "good-old" hymns to praise music. The delivery of the message ranges from traditional sermons to skits presented by our youth group.  People of all ages help lead worship.   We have both an adult choir and a hand bell choir.
Communion is typically offered on the first Sunday of the month, but also on Christmas Eve, Maundy Thursday, Easter, Pentecost and other special occasions.
Seasonal worship services
During Advent and Lent, we have expanded worship opportunities, including a meditation during Wednesday Night Supper, and other services during the week.  See the Church Calendar for the specific dates and times or become a fan on Facebook to find out what's coming at SBPC.
Choirs
The Adult Choir practices on Wednesdays at 6:45 p.m.  in the choir room behind the Sanctuary.  All voices are welcome.  For more information, contact Gabe Perez.
The Hand Bell Choir practices after Sunday worship until about 12:30 p.m..  We have 2 octaves of hand bells.  For more information, contact Gabe Perez.
Worship for the Home Bound
Recordings of our worship services are available to those who are unable to attend worship.  Communion is taken to the home bound periodically and as desired.  Click here to request home worship needs.