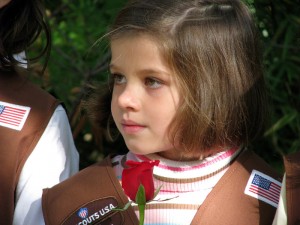 We have 9 Girl Scout troops utilizing the Scout Room of the Gathering Place. The troops range from Daisy (5 yrs. old) to Senior (to age 18) Scouts.
The troops all work on Girl Scout Programs, including badges & Leadership Journeys that are based on their level and age of the girls.
There are three series of the Leadership Journeys:
It's your World – Change It! ‐ On this Journey, Daisies learn about the Girl Scout Promise and Law while exploring the world of gardening. Brownies learn how to care for themselves, their families, their Girl Scout sisters, and their community. Juniors learn how they can change the world by exploring their own talents and learning about women who have made the world better. Older Girls learn to develop good relationships, develop their own vision of an ideal world for girls & learn skills to make it a reality, and learn the skills needed to influence change, such as identifying community problems, researching issues, creating presentations, etc.
It's your Planet – Love It! ‐ Girls are being exposed to ideas and discussions on the environment every day and everywhere. Girl Scouts journeys are packed with the latest research and girl‐relevant environmental thinking and offer adults a way to interact with girls on topics of great importance in their lives. In this journey series, girls at each grade level have an opportunity to learn about grade‐appropriate environmental issues such as clean water and air, noise pollution, global warming, soil contamination, and agricultural processes.
It's Your Story – Tell It! ‐ Stories say so much about us—our likes, desires, dreams. The It's Your Story – Tell It! Leadership Journey series, made possible by a grant from the Dove Self‐Esteem Fund, gives girls the opportunity to tell their stories through a range of creative approaches. Self‐esteem is a natural by‐product of this Journey series because through storytelling and creative expression girls gain a deep understanding of themselves and their potential, and develop confidence to become leaders in their own lives and in the world.
The girls also work on badges which are related to the Journeys. They go camping and to special events; they do service projects and much more! They can also earn the Bronze Award, the Silver Award and the Gold Award which are the highest awards at different levels of Girl Scouting. The Gold Award is comparable to the Boy Scout Eagle Award.
Oh, and don't forget – We also sell those wonderful cookies!!
When a Girl Scout sells you cookies, she's building a lifetime of skills and confidence. She learns goal setting, decision making, money management, people skills, and business ethics—aspects essential to leadership, success, and life.
By putting her mind and energies to something, a Girl Scout can overcome any challenge. There are no limits. She can be anything. She can do anything. Help her build a lifetime of skills and confidence.
Come join the fun!
To contact the Girl Scouts, click here. Please send us your daughter's age, her school and your name & phone number.